University of Nevada, Reno – Modular Chiller Plant #2
UNR recently took delivery of their second modular chiller plant.  The chiller will connect in to their existing campus chilled water district loop.  This loop serves over 30 buildings on the UNR campus.  This project is a big milestone in UNR's master plan to consolidate chiller tonnage to a centralized location.  The centralization process reduces the quantity of remote assets and systems to be maintained.  As new chiller tonnage is brought online, existing chillers and their associated systems that are reaching the end of their useful life may be retired from service.  MCP #1 was selected for 550 tons and the plan was to procure a second and third MCP at the same tonnage.  However, due to UNR's recent growth and new buildings connecting in to the district loop, MCP #2 was selected for 1400 tons.  Under the escort of several Nevada Highway Patrol service members MCP #2 on a 130' truck/trailer arrived on site August 2nd, 2023 after a 4-day journey from Phoenix, Arizona.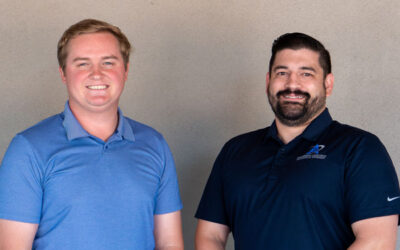 Congratulations Jacob Roll and Wes Wilson! Jacob and Wes are officially graduates in the Class of 2023. Both gentlemen earned Bachelor of Science Degrees in Mechanical Engineering from the University of Nevada Reno. We would like to extend our warmest welcome to Jacob...
read more